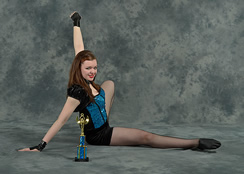 Improves technique, strength and flexibility while learning a diverse style of dance. Jazz is one of the original forms of dance. From Bob Fosse to our current style of contemporary, it is an upbeat fun class for dancers of all ages.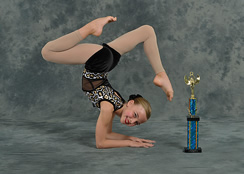 A combination of dance and gymnastics. Dancers will learn how to properly develop acrobatic and gymnastic skills with an emphasis on strength, flexibility and control.
Dancers are motivated by a combination of Dance and Theatre. Dancers learn to express themselves through music, dance and characterization.
Ballet is taught using the Checchetti method. Focusing on technique, strength and flexibility, ballet is the basis for all other forms of dance. Studying ballet helps individuals with poise, posture, confidence and co-ordination.
This form of dance is a combination of Ballet and Jazz executing strength, control with the emphasis placed on technique, while embracing the feelings and emotions of the lyrics. Strong ballet and jazz backgrounds are required for all lyrical classes.
Taught using the Limon technique. This class focuses on control, strength and creativity using a variety of interesting movements. Modern has become one of the most popular forms of dance in the professional world and continues to evolve.
This is a high-energized class motivating dancers to move in a fun-filled environment to the latest music, while strengthening their physical fitness in a non-technical dance form.
A high energy class where dancers learn rhythm, speed, and precision to all forms of music or a capella. Tap develops strong co-ordination and musicality.
This class is the introduction of dance. It teaches the basic steps of dance with a ballet base, to various types of children's music. It develops the child's motor skills, to work in groups, but most of all to have fun and begin to learn the wonderful art of dance. Children must be at least 3 to enroll.
*All students must wear light pink tights with a black bodysuit (except hip hop)
*Hair tied back securely (all Level 3's and up must have hair in a bun)
SHOES

Ballet: Light pink leather ballet shoes. Older girls may wear split-soles.
Jazz: Ages 4-8 – Black gymnastic shoe
          Ages 9 and up – Black leather jazz bootie
Tap: Ages 4-6 – Black patent beginner tap shoe
         Ages 7-12 – Black "maryjane" style intermediate tap shoe
         Ages 13+ – Black leather tap shoe
Acro & Modern: Bare feet
Hip Hop: Comfortable clothing with indoor runners or hip hop shoes
Lyrical: Beige lyrical shoes
ALL DANCEWEAR AND SHOES CAN BE PURCHASED AT THE STUDIO
If you have any questions, please don't hesitate to contact the studio. Someone will be happy to assist you in any way.
Have a great year everyone!!!!
Christine Eagle & Shirley Firman
Co-Directors, Northern Lights Dance Studio
The Following ages are guidelines only
Nursery Ballet: Ages 3 1/2 - 4 1/2
Level 1: Ages 5 & 6
Level 2: Ages 7 & 8
Level 3: Ages 9 & 10
Level 4: Ages 11 & 12
Teen: Ages 13 and up
Int.: Ages 8 - 11
Sr.: Ages 12 and up
Fee Schedule - Spring Session
30 min. class $105.00
1 hour class $176.00
Registration Dates:
Register any time over the phone or online.
Competitive Team:
Tryouts are mandatory to enter any competitive class. For more information about our competitive program, please call the studio. Students are placed in competitive classes by the teacher according to age, ability and experience.
Dance Classes
Acrobatics
Ballet
Hip Hop
Jazz
Lyrical
Modern
Musical Theatre
Tap
Kinder Dance
Location
Northern Lights Dance Studio
5 Vata Court, Units 1 & 2
Aurora ON, L4G 4B6
905.713.0555
studio@northernlightsdance.com